Updates on the respiratory illness that has infected tens of thousands of people.
Scientists are concerned about a new virus that has infected tens of thousands of people and killed thousands. The virus, which emerged in the Chinese city of Wuhan in December, is a coronavirus and belongs to the same family as the pathogen that causes severe acute respiratory syndrome, or SARS. It causes a respiratory illness called COVID-19, which can spread from person to person.
Here's the latest news on the outbreak.
2 March 21:00 GMT — Infections worldwide top 90,000
The number of people worldwide who have been infected with the coronavirus has passed 90,000. More than 3,000 people have died since the outbreak began in December. The vast majority of cases — more than 80,000 — have occurred in China, but around 60 other countries are now also dealing with outbreaks. Many nations are preparing for a global pandemic, as reports of cases caused by community spread — rather than importation from China — rise.
South Korea, Italy and Iran are fighting the largest outbreaks outside of China.
2 March 20:45 GMT — WHO raises alert to 'very high'
At a press briefing on 29 February, the World Health Organization (WHO) announced that it had raised the global alert for COVID-19 to the highest possible level, short of calling it a pandemic. The virus has now spread to some 60 locations outside China, with new cases detected in Ireland, Monaco, Azerbaijan, Qatar and Ecuador.
Epidemiologists at the WHO have increased the global risk of spread and impact of the coronavirus outbreak from 'high' to 'very high'. The risk remains 'very high' in China.
The epidemiologists' global assessment was based on the continued increase in cases and affected locations, and the difficulties that some regions such as Iran and Italy are facing in containing the spread of the coronavirus.
Tedros Adhanom Ghebreyesus, director-general of the WHO, said at the briefing that most cases were linked and could still be traced to known contacts or clusters, with no evidence of the virus spreading freely in communities. "As long as that is the case, we still have a chance of containing this virus, if robust action is taken to detect cases early, isolate and care for patients and trace contacts," said Tedros.
The organisation therefore resisted, once again, declaring the outbreak a pandemic. Mike Ryan, director of the WHO's emergencies programme, said that such a decision would mean that efforts to contain and slow down the spread of the virus have failed, which China, Singapore and other regions have proven otherwise.
The WHO is still holding out hope that the virus can be contained, but we have probably crossed that threshold, says Adam Kamradt-Scott, a global health security researcher at The University of Sydney.
Some countries have already begun to prepare their pandemic plans, which is an important precautionary measure, Nigel McMillan, an infectious disease researcher at Griffith University in Brisbane. Australia, for example, initiated its coronavirus emergency response on 27 February. The WHO is being overly cautious in not declaring a pandemic, says McMillan.
2 March 20:30 GMT — Transmission details emerge from WHO China analysis
China has mounted "perhaps the most ambitious, agile and aggressive disease containment effort in history" against a new infectious disease, the World Health Organization (WHO) said in a report released on 28 February, after a 9-day meeting in China, 16–24 February. The report analyses data from the outbreak in China, and recommends steps that China and other countries should take to curb COVID-19.
New daily cases are declining in the country, the WHO confirmed, so much so that authorities are now having problems recruiting patients for the more than 80 clinical trials being run there that test potential treatments for the coronavirus. Some experimental treatments should be prioritized over others, the health agency recommended.
The report's analysis of data from China finds that 104 strains of the coronavirus, named SARS-CoV-2, collected from people between December 2019 and mid-February 2020 are 99.9% similar, meaning that the virus is not significantly mutating. The median age of people infected is 51 years old. And most cases that have spread from person to person are within hospitals, jails or households, which implies close contact is often required for the virus to spread between people. Airborne spread is not believed to be a major driver of transmission, the report says. In one preliminary study from the province of Guangdong, people who shared the same household as someone with COVID-19 had 3–10% chance of being infected.
The WHO credits China's ability to reign in the epidemic to a variety of measures. One is that 1,800 teams of epidemiologists have rapidly tracked tens of thousands of contacts of people infected with the virus in the Hubei province, where the outbreak emerged. Up to 5% of these contacts ended up having the disease and were diagnosed quickly. And the report says the lockdown on travel out of Hubei — an unprecedented measure in a province of this size — curbed wider spread of the disease to China's 1.4 billion citizens.
2 March 17:45 GMT — Coronavirus fears cancel huge physics meeting
Senior Nature reporter Davide Castelvecchi reports from Denver, Colorado, where the world's biggest physics meeting has been cancelled because of coronavirus fears.
The meeting is the biggest on the physics calendar and had been scheduled to host 11,000 attendees. Some researchers are finding other ways to share their research, including informal meet-ups and sharing virtual talks.
Several other scientific meetings have also being cancelled, as virus outbreaks emerge and escalate in countries around the world.
28 February 12:45 GMT — Coronavirus spreads to sub-Saharan Africa
The coronavirus outbreak has spread to 46 countries other than China — and now seems to be spreading faster outside China than inside.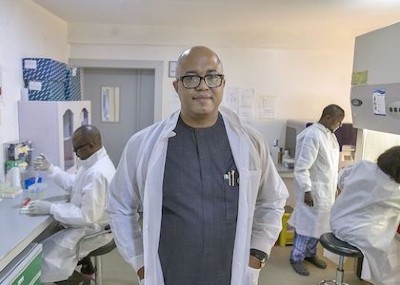 This Nigerian doctor might just prevent the next deadly pandemic
Several nations reported their first infections this week; cases included the first to be confirmed in sub-Saharan Africa, in Nigeria. The Nigeria Centre for Disease Control reported the case on 27 February and said it was working to trace the infected person's contacts. Health authorities and researchers have feared the virus's spread to African countries including Nigeria, where weak health systems could quickly be overwhelmed by a local outbreak.
The World Health Organization reports that more than 82,000 people worldwide have now been infected — more than 3,600 of those outside China. Cases in South Korea, which is handling the world's second-largest outbreak, have exploded to more than 2,300.
China's outbreak seems to be slowing, with the daily number of new cases dropping. Authorities reported 327 new infections nationwide on 27 February. A week earlier, on 20 February, that figure had been around 900. Outside China, about 750 new cases were reported on 27 February.